Win a Neumann TLM 102 microphone (worth $700 US) in this MPV SongCraft Remix Contest! Simply log-in/sign-up for FREE, download stems, remix & submit before end of July 31st, 2013.
Il est temps d'exercer ces neurones remixage et aller sauvages avec le morceau exclusif, "K (pas) w" par Erin McKeown et Ben Sollee qui a été écrit et produit de bout en bout dans le nouveau monospace
Et, bien sûr, vous pouvez gagner un impressionnant TLM 102 microphone (valeur de 699 $ US) gracieuseté de Neumann!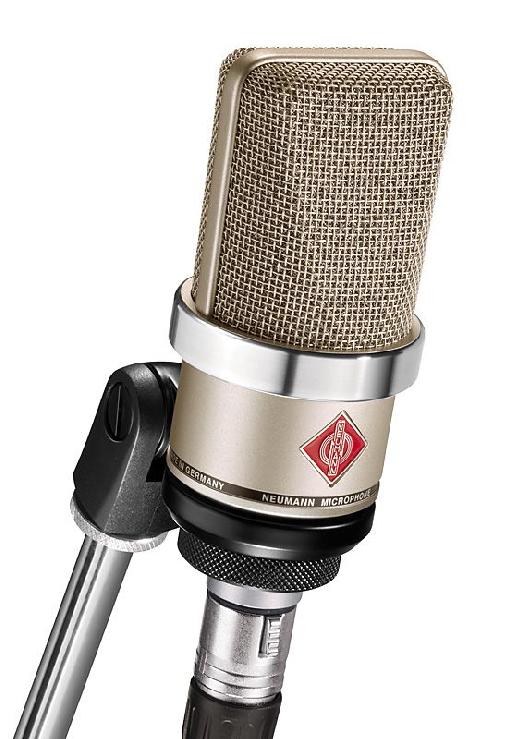 Le Neumann TLM 102 Microphone (700 $ US) pourrait être le vôtre!
Check the video course and learn how the original version was produced in Dubway Studios, New York. Then download the stems and remix the same song. Can you make a better mix, or will you go left field and take it in a completely new direction altogether? The choice is yours!
Prix
There's fantastic prizes provided by our generous partner, Neumann, who create some of the most mind-blowing instrument and effect plug-ins period.
1ère place:
2ème place:
3e place:
Whether you win or not, here is your chance to share your musical excellence with the world!
Contest ends on Midnight PST, July 31, 2013. Results will be announced on The MPVHub shortly after! Good luck!
Comment participer
1. Download the stems and get remixing!
2. Upload your finished remixes using the SoundCloud submissions box below. (You'll need a free SoundCloud account).
3. Listen to and vote for your favorite remix entries in the player below.
... and the artists will personally select the top 3 winners. Winners will be announced on (or soon after) July 31st, 2013!
A propos du didacticiel songcraft
Deux chanteurs / compositeurs établi rencontrent pour la première fois. Ils ont un jour de composer une nouvelle chanson. Possible? Vous pariez! Apprendre le métier de la chanson avec Ben Sollee et Erin Mckeown alors qu'ils explorent les profondeurs de leur créativité et émergent avec une chanson évoquant de nouveau.

Ben Arthur, notre intrépide compositeur en mouvement, et son équipe audio / vidéo talentueux Dubway rendus au festival SXSW à Austin, au Texas, pour documenter ce que les auteurs-compositeurs font de mieux: des chansons d'écriture!
L'équipage de Dubway premier arrondi le violoncelliste très talentueux / compositeur / interprète, Ben Sollee. Ensuite, ils se disputaient dans le folk / rock extraordinaire chanteur / compositeur Erin McKeown. Puis ils ont mis en place un gorille, un studio d'enregistrement de salut-technologie dans un condo loué et utilisez Pro Tools et une collection de micros de qualité documenté le processus de l'accouchement d'un nouveau morceau.
Le processus d'écriture est à la fois insaisissable, exigeant et souvent frustrant. Ainsi, lorsque vous ajoutez le temps la pression au mélange, ainsi, il devient carrément fou. Ce cours est conçu pour vous donner un regard intérieur sur le métier de la chanson et les épreuves et les tribulations de la créativité sous le microscope musical. Regardez comme Erin, et les deux Bens littéralement unissent leurs forces pour relever le défi. Vous en apprendrez beaucoup sur les chansons, la collaboration et l'enregistrement en moins souhaitables, les situations non-studio!
Alors, asseyez-vous et regardez ce cours docu-réalité songwriting et apprendre l'art et l'artisanat de l'accouchement et l'enregistrement d'une chanson ... tout en quelques heures!
Regardez ce one-of-a-kind cours vidéo:
https://www.macprovideo.com/tutorial/songcraft-presents-songwriting-with-ben-sollee-and-erin-mckeown

Sur

The TLM 102 is impressive in terms of sound: In the interior is a newly developed large-diaphragm capsule (cardioid) with a maximum sound pressure level of 144 dB, which permits the recording of percussion, drums, amps and other very loud sound sources, for example. Instruments that are not especially loud also benefit from the very fast transient response of the TLM 102. However, its most important applications are in the realm of vocals and speech; a slight boost above 6 kHz provides for excellent presence of the voice in the overall mix. Up to 6 kHz, the frequency response is extremely linear, ensuring minimal coloration and a clearly defined bass range. The capsule has an elastic suspension for the suppression of structure-borne noise. A pop screen integrated into the grille serves to suppress plosives in vocal and speech recording.




Due to its price and flexible field of application, the TLM 102 is ideal for the home recording and project studio sector, as well as for the broadcasting area, especially when clear lines of sight to the speakers are a priority.




The TLM 102 is available in black and nickel; a stand mount is included.
Découvrez plus ici:
Sur

macProVideo.com

is a high-tech, online video education community specializing in everything music from recording, mixing and music theory to expert training on world's leading audio software including Logic Pro, Pro Tools, Ableton Live, Native Instruments, Reason, Cubase, and more! Our entire library is available online, 24/7 so you learn what you want, when you want.

macProVideo.com.

What would you like to learn today?
Termes et conditions
Les candidatures doivent être soumises au SoundCloud Dropbox ci-dessus. Vous aurez besoin d'un compte SoundCloud libre de participer. Nous vous conseillons de pistes soumises doivent être réglés sur «public». Si vous le souhaitez, l'option de téléchargement peut être désactivée.
La date limite pour les inscriptions est minuit PST le 31 Juillet,
Les gagnants seront sélectionnés par Erin McKeown et Ben Sollee et / ou de l'équipe Dubway Studio. La décision des juges est définitive.
Aucune solution de rechange en espèces peuvent être proposées pour les gagnants.
Toutes les marques et logos sont protégés. Tous droits du producteur et du propriétaire de l'oeuvre enregistrée réservés.
Les participants doivent justifient que leurs entrées sont l'œuvre originale et ne portent pas atteinte à la propriété intellectuelle et la vie privée d'un tiers. Vous êtes libre d'utiliser les sons qui ont été créés par vous et / ou royalty free partie soumettant loops.The assume l'entière responsabilité de leur utilisation de tout contenu «friche». Contenu "Non compensée" est défini comme un fichier d'exemple, la boucle audio ou que vous n'avez pas créé, ou que vous ne possédez pas les droits d'auteur de.
Les participants acceptent que leurs entrées peuvent être utilisés, sans droits supplémentaires demandées, en tout songcraft cours vidéo de série associé créée par macProVideo.com, AskVideo.com et l'un de leurs partenaires pour la distribution en ligne et le téléchargement.
Frais d'expédition seront payés par macProVideo et Dubway Studios. Tous les frais d'impôts ou les coutumes locales doivent être payés par le gagnant.
Tous les participants à ce concours seront réputés avoir accepté les règles et les conditions.
Now we're done with the legal speak… Good luck creating amazing remixes!