Win a Neumann TLM 102 microphone (worth $700 US) in this MPV SongCraft Remix Contest! Simply log-in/sign-up for FREE, download stems, remix & submit before end of July 31st, 2013.
E 'il momento di esercitare tali neuroni remix e scatenarsi con la pista in esclusiva, "K (no) w" di Erin McKeown e Ben Sollee che è stato scritto e prodotto dall'inizio alla fine nella nuova MPV
E, naturalmente, si può vincere un fantastico microfono TLM 102 (del valore di 699 dollari US) per gentile concessione di Neumann!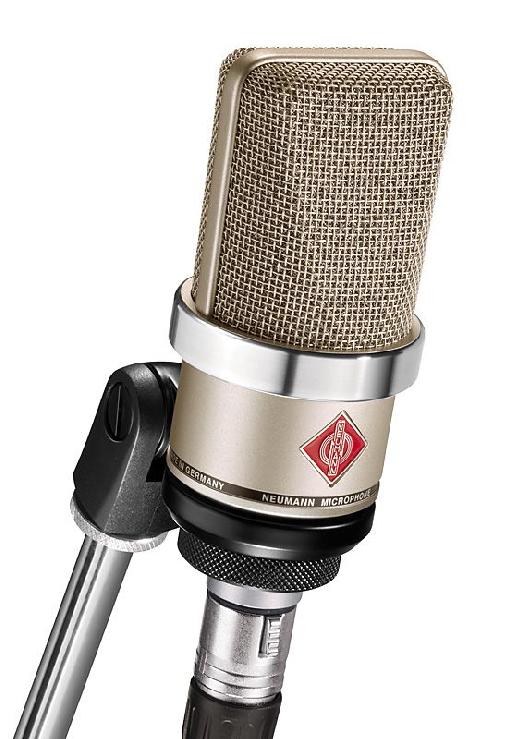 Il 102 Microfono Neumann TLM (700 dollari USA) potrebbe essere tuo!
Check the video course and learn how the original version was produced in Dubway Studios, New York. Then download the stems and remix the same song. Can you make a better mix, or will you go left field and take it in a completely new direction altogether? The choice is yours!
Premi
There's fantastic prizes provided by our generous partner, Neumann, who create some of the most mind-blowing instrument and effect plug-ins period.
1 ° posto:
2 ° posto:
3 ° posto:
Whether you win or not, here is your chance to share your musical excellence with the world!
Contest ends on Midnight PST, July 31, 2013. Results will be announced on The MPVHub shortly after! Good luck!
COME PARTECIPARE
1. Download the stems and get remixing!
2. Upload your finished remixes using the SoundCloud submissions box below. (You'll need a free SoundCloud account).
3. Listen to and vote for your favorite remix entries in the player below.
... and the artists will personally select the top 3 winners. Winners will be announced on (or soon after) July 31st, 2013!
Circa il Tutorial SongCraft
Due stabilito cantanti / cantautori si incontrano per la prima volta. Hanno una giornata per comporre una nuova melodia. Possibile? Ci puoi scommettere! Imparare il mestiere di scrivere canzoni con Ben Sollee e Erin Mckeown mentre esplorano le profondità del loro creatività ed emergono con una nuova canzone evocativa.

Ben Arthur, il nostro intrepido cantautore in movimento, e il suo team audio / video di talento da Dubway viaggiato al festival SXSW di Austin, Texas per documentare quello che cantautori fare meglio: le canzoni di scrittura!
L'equipaggio Dubway prima arrotondato il violoncellista di grande talento / compositore / performer, Ben Sollee. Successivamente, essi disputarono nella straordinaria folk / rock singer / songwriter Erin McKeown. Poi hanno creato un gorilla, studio di registrazione hi-tech in un condominio affittato e l'utilizzo di Pro Tools e una collezione di microfoni di qualità documentato il processo di nascita di un nuovo brano.
Il processo di songwriting è sia sfuggente, esigente e spesso frustrante. Quindi, quando si aggiunge il tempo di pressione per il mix, così, diventa addirittura folle. Questo corso è pensato per dare uno sguardo all'interno del mestiere di scrivere canzoni e le prove e le tribolazioni della creatività al microscopio musicale. Guarda come Erin e le due Bens letteralmente messo le loro teste insieme per affrontare la sfida. Si impara molto di canzoni, la collaborazione e la registrazione in meno desiderabili, situazioni di non-studio!
Così, sedersi e guardare questo songwriting corso docu-reality e imparare l'arte e il mestiere del parto e la registrazione di una canzone ... tutto in poche ore!
Guarda questo one-of-a-kind video corso:
https://www.macprovideo.com/tutorial/songcraft-presents-songwriting-with-ben-sollee-and-erin-mckeown

Circa

The TLM 102 is impressive in terms of sound: In the interior is a newly developed large-diaphragm capsule (cardioid) with a maximum sound pressure level of 144 dB, which permits the recording of percussion, drums, amps and other very loud sound sources, for example. Instruments that are not especially loud also benefit from the very fast transient response of the TLM 102. However, its most important applications are in the realm of vocals and speech; a slight boost above 6 kHz provides for excellent presence of the voice in the overall mix. Up to 6 kHz, the frequency response is extremely linear, ensuring minimal coloration and a clearly defined bass range. The capsule has an elastic suspension for the suppression of structure-borne noise. A pop screen integrated into the grille serves to suppress plosives in vocal and speech recording.




Due to its price and flexible field of application, the TLM 102 is ideal for the home recording and project studio sector, as well as for the broadcasting area, especially when clear lines of sight to the speakers are a priority.




The TLM 102 is available in black and nickel; a stand mount is included.
Scopri di più qui:
Circa

macProVideo.com

is a high-tech, online video education community specializing in everything music from recording, mixing and music theory to expert training on world's leading audio software including Logic Pro, Pro Tools, Ableton Live, Native Instruments, Reason, Cubase, and more! Our entire library is available online, 24/7 so you learn what you want, when you want.

macProVideo.com.

What would you like to learn today?
Termini e Condizioni
Le iscrizioni devono essere presentate alla SoundCloud Dropbox sopra. Avrete bisogno di un account gratuito SoundCloud di partecipare. Vi consigliamo di brani presentati devono essere impostate su 'public'. Se lo si desidera, l'opzione di download può essere disabilitata.
Il termine ultimo per le iscrizioni è mezzanotte, PDT il 31 luglio,
I vincitori saranno selezionati da Erin McKeown e Ben Sollee e / o Dubway team di Studio. La decisione dei giudici è inappellabile.
Alternative in denaro possono essere offerti per i vincitori.
Tutti i marchi e loghi sono protetti. Tutti i diritti del produttore e del proprietario dell'opera registrata sono riservati.
I partecipanti devono garantiscono che le loro voci sono opera originale e non violano la proprietà intellettuale e la privacy di una terza parte. Siete liberi di usare suoni creati da voi e / o royalty free soggetto che ha presentato loops.The assume la piena responsabilità per il loro uso di qualsiasi contenuto 'non liquidati'. Contenuto 'Uncleared' è definito come un file di esempio, loop o audio che non è stato creato, o che non si possiede il copyright.
I partecipanti concordano sul fatto che le loro voci possono essere utilizzati, senza diritti aggiuntivi che esso stesso richiede, in ogni corso di video serie associata SongCraft creato da macProVideo.com, AskVideo.com e qualsiasi dei loro partner per la distribuzione on-line e download.
Spese di spedizione saranno pagati da macProVideo e Dubway Studios. Eventuali oneri fiscali o doganali locali devono essere a carico del vincitore.
Tutti i partecipanti a questo concorso saranno tenuti all'accettazione delle regole e termini e condizioni.
Now we're done with the legal speak… Good luck creating amazing remixes!