Win a Neumann TLM 102 microphone (worth $700 US) in this MPV SongCraft Remix Contest! Simply log-in/sign-up for FREE, download stems, remix & submit before end of July 31st, 2013.
它的时间来锻炼那些混音神经元和去野外专用轨道,"K(无)W"由Erin欧恩和Ben Sollee的的是编写和制​​作,从开始到结束,在新的MPV
而且,当然你也可以赢得真棒TLM 102麦克风(价值699美元)由诺伊曼!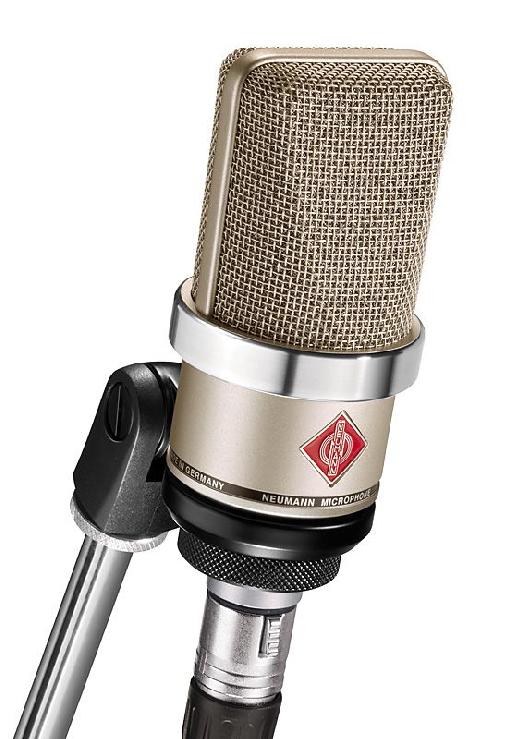 纽曼TLM 102麦克风($ 700美元),可能是你的!
Check the video course and learn how the original version was produced in Dubway Studios, New York. Then download the stems and remix the same song. Can you make a better mix, or will you go left field and take it in a completely new direction altogether? The choice is yours!
奖品
There's fantastic prizes provided by our generous partner, Neumann, who create some of the most mind-blowing instrument and effect plug-ins period.
Whether you win or not, here is your chance to share your musical excellence with the world!
Contest ends on Midnight PST, July 31, 2013. Results will be announced on The MPVHub shortly after! Good luck!
如何进入
1. Download the stems and get remixing!
2. Upload your finished remixes using the SoundCloud submissions box below. (You'll need a free SoundCloud account).
3. Listen to and vote for your favorite remix entries in the player below.
... and the artists will personally select the top 3 winners. Winners will be announced on (or soon after) July 31st, 2013!
有关SongCraft教程
两个既定的歌手/词曲作者第一次见面。他们有一天,组成一个新的调。可能吗?你打赌!学习工艺与本Sollee和Erin基翁写歌,他们的创造力,因为他们探索的深处出现一个令人回味的新歌。

本亚瑟,强悍的词曲作者议案,和他的天才团队从Dubway音频/视频文件在得克萨斯州奥斯汀​​的SXSW音乐节最佳词曲做什么:写歌!
第一次围捕的Dubway人员非常有才华的大提琴手/作曲家/演奏家,Ben Sollee的。接下来,他们在平凡的民谣/摇滚歌手/词曲作者艾琳基翁争吵。于是他们成立了一个大猩猩,高科技录音棚在租来的公寓,并使用Pro Tools和质量话筒记录分娩过程中的一首新的歌曲的集合。
写歌的过程既难以捉摸的,苛刻的,往往令人沮丧。因此,当您添加时间压力的组合,很好,它成为彻头彻尾的疯狂。本课程的目的是让你看看里面写歌的手艺和创意的音乐显微镜下的考验和磨难。观看艾琳和两个邦斯字面上把他们的头,一起迎接挑战。你会学到很多的歌曲,协作和记录在不到可取的,非工作室的情况!
所以,坐下来,看这个写歌记录现实当然,学习分娩和录制一首歌曲的艺术和工艺...所有在几个小时!
关注此之一的一类视频课程:
https://www.macprovideo.com/tutorial/songcraft-presents-songwriting-with-ben-sollee-and-erin-mckeown

关于

The TLM 102 is impressive in terms of sound: In the interior is a newly developed large-diaphragm capsule (cardioid) with a maximum sound pressure level of 144 dB, which permits the recording of percussion, drums, amps and other very loud sound sources, for example. Instruments that are not especially loud also benefit from the very fast transient response of the TLM 102. However, its most important applications are in the realm of vocals and speech; a slight boost above 6 kHz provides for excellent presence of the voice in the overall mix. Up to 6 kHz, the frequency response is extremely linear, ensuring minimal coloration and a clearly defined bass range. The capsule has an elastic suspension for the suppression of structure-borne noise. A pop screen integrated into the grille serves to suppress plosives in vocal and speech recording.




Due to its price and flexible field of application, the TLM 102 is ideal for the home recording and project studio sector, as well as for the broadcasting area, especially when clear lines of sight to the speakers are a priority.




The TLM 102 is available in black and nickel; a stand mount is included.
发现更多的在这里:
关于

macProVideo.com

is a high-tech, online video education community specializing in everything music from recording, mixing and music theory to expert training on world's leading audio software including Logic Pro, Pro Tools, Ableton Live, Native Instruments, Reason, Cubase, and more! Our entire library is available online, 24/7 so you learn what you want, when you want.

macProVideo.com.

What would you like to learn today?
条款和条件
参赛作品必须提交的SoundCloud的Dropbox以上。你需要一个免费的SoundCloud帐户来参与。我们建议提交的轨迹应设置为'公'。如果你愿意,下载选项可以禁用。
截止报名日期为7月31日太平洋标准时间午夜,,
优胜者将被选中由艾琳欧恩和Ben Sollee的的和/或Dubway的工作室球队。法官的决定是最终决定。
没有现金的替代品,可以提供获奖。
所有商标和徽标保护。保留所有权利生产者和记录工作的所有者。
参赛者必须保证其作品的原创作品,不侵犯第三方的知识产权和隐私。您所创建的用户和/或特许权使用声音免费loops.The提交方承担全部责任,其使用的任何"未清除"的内容是免费的。 "未清除"的内容被定义为一个样品,循环或音频文件,你没有创建,或者你不拥有版权。
参赛者同意其作品可以使用,没有被要求额外的权利,在任何相关SongCraft系列视频课程,AskVideo.com macProVideo.com和任何在线和下载分发他们的合作伙伴创造。
将支付运费由macProVideo和Dubway影城。任何地方税务或海关必须支付费用由获奖者。
本次比赛的所有参赛者将被视为已接受的规则和条款及条件。
Now we're done with the legal speak… Good luck creating amazing remixes!