Deluge from Synthstrom is a synth, sampler and sequencer that's captured the imagination of those looking for powerful and portable music hardware. And now the 2nd round of pre-orders are open!
We can't help but draw comparisons with the Synthstrom Deluge and a number of current MIDI controllers, synths and instruments. It's interesting to note that there's not many (any?) out there with 128 RGB pads right now. The Deluge, which has been known about since October 2016, continues to wow us... But that's not the big news!
The big news today comes in three parts. Firstly, after a successful first round of pre-orders the Deluge is now out in the wild. More and more will be popping up in YouTube videos and studios of friends...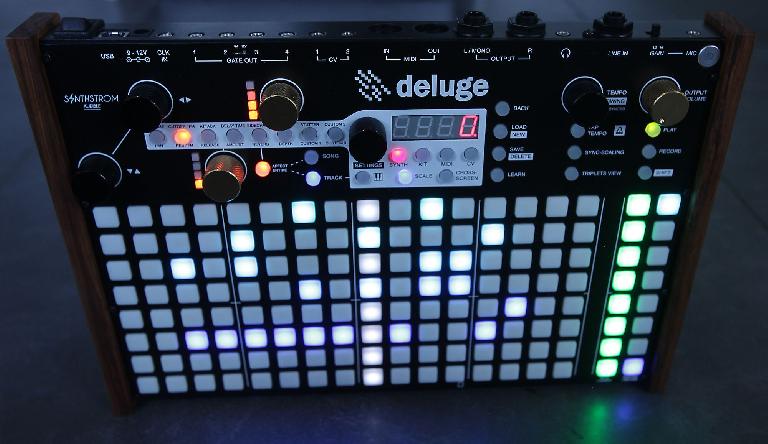 Next up - Synthstrom have opened up a new round of Deluge orders. This is for a second limited run which will be shipping July 31st. Get your order in quick to avoid missing out.
And, because all good things come in threes... Synthstrom have a playlist of some users videos from the last week or so on their site too. This brilliant one went live today and explores the Deluge synth engine in depth:
And here's a playlist of user reviews and videos on the Deluge. The first one is particularly goood to watch if you're interested in understanding and seeing what Deluge is capable of: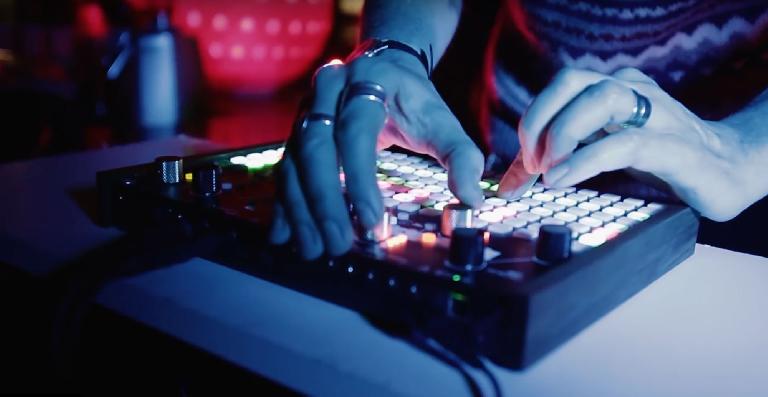 Deluge Features:
SYNTHESIZER
Full-featured internal synthesizer engine (subtractive and FM).
Polyphony limited only by CPU. Typically up to 48 synth voices or 64 unaffected sample voices may play.
Live adjustment of synth and effect parameters with two endless-turn encoders with LED level-meters.

Easy buttons to select the functions these control.

Parameter automation recording.
Arpeggiator
Dedicated volume and tempo knobs.
LFOs and envelopes on each synth / sample. Highly customizable modulation matrix.
Synthesizer engine features LPF / HPF, FM, arpeggiator, portamento, oscillator sync, ring modulation, unison detune, and more.
Four basic waveforms, or select any WAV file from the SD card.
FX including delay, reverb, chorus, flanger, phaser, bitcrushing, sidechain effect, live stutter, and more.
Keyboard mode, where the pads become a live instrument on a 2D grid.
Preset or custom scales, or chromatic mode.
SEQUENCER
Piano-roll-style sequencing on 128 full RGB pads (16×8) with scrolling and zooming.
Sequencing limited only by device RAM (many thousands of notes).
CC control and sequencing on all 16 MIDI channels
Advanced syncing capabilities. Non-standard time signatures supported.
Adjustable swing
SAMPLER
Loads samples from SD card (up to 32GB SDHC).
64MB of sample ram – work with up to 12 minutes (if mono) of CD-quality samples per song.
Time-stretching
5mm mic, ¼" line inputs and microphone.
CONNECTIVITY
Two ¼" line outputs, and 3.5mm headphone output.
2x CV outputs. 0 – 10V, individually configurable to between 0.01 and 2.00 volts per octave, or to hertz-per-volt.
4x gate / trigger outputs individually configurable to v-trig or s-trig, with shared voltage switchable between 5V and 12V.

Trigger clock output configurable, up to 192 PPQN.
Trigger clock input, also with adjustable PPQN.

MIDI input and output via hardware connectors or USB. Syncing via MIDI beat clock as master or slave.
Simultaneously output separate sequences to all 16 MIDI channels, 2 CV / gate channels and 2 additional gate outputs, in addition to internal synthesizers / samples (limited only by CPU and RAM, as above).
Powered via USB or 9 – 12V centre-negative (pedal-style) power supply (500mA) (not included).
User-upgradeable firmware – expect updates from Synthstrom Audible.
Internal speaker, rechargeable Li-ion battery (6+ hours of operation).
Printed manual of software 1.1.0 is included.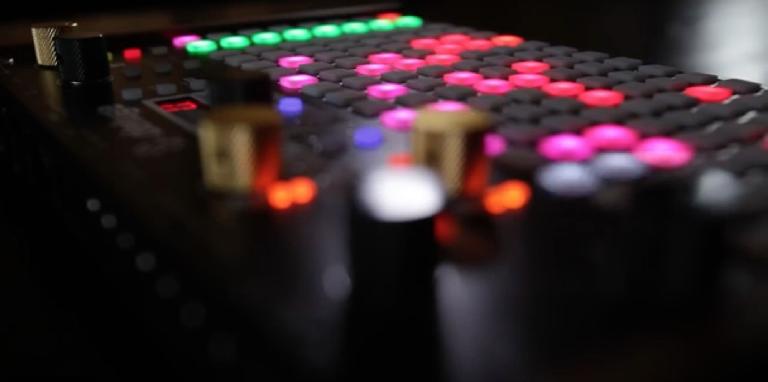 DIMENSIONS
Dimensions: 305mm x 208mm x 46mm (12 x 8.2 x 1.8 inches).
Weight: 1.5kg
Price: US$899.00 – US$919.00