Universal Audio Releases Century Tube Channel Strip Plug-In for UA Interfaces and UAD''2 Hardware
Our friends at Universal Audio tell us Century Tube Channel Strip is a classic tube microphone preamp, EQ and dynamics control, for real time recording inspiration for the most important sources.
SCOTTS VALLEY, CA • August 14th, 2018 — Universal Audio is proud to release the Century Tube Channel Strip plug-in. Inspired by the classic sounds and recording circuitry from the last mid-century, the Century Channel Strip features a vintage tube mic preamp, transparent dynamics control, and a classically voiced EQ, all in an intuitive interface that lets musicians and producers dial in the perfect touch of analog warmth quickly and easily.
Century Tube Channel Strip — $149 USD / £115 GBP
The Century Tube Channel Strip's mic preamp give instruments and vocals a burnished tube color with the unmistakable warmth and detail that only a tube mic pre can provide. Harnessing UA's groundbreaking Unison technology, the Century Tube Channel Strip blurs the lines between analog and digital, capturing all the important impedance, gain staging "sweet spots," and circuit behaviors of a vintage tube preamp.
With its intuitive, musically voiced, three-band EQ, the Century Tube Channel Strip is perfect for quickly bringing out the details in a breathy vocal, adding punch to an overdriven electric guitar, or giving acoustic guitar propulsive sizzle and shine. The final piece of signal processing is a classic autoformer-driven optical compressor. The Century Tube Channel Strip's dynamics section takes the guesswork out of compression settings with a single knob. Users can quickly tame a dynamic vocal or bass performance, and add energy and harmonics to acoustic guitars or piano, all with the twist of a knob.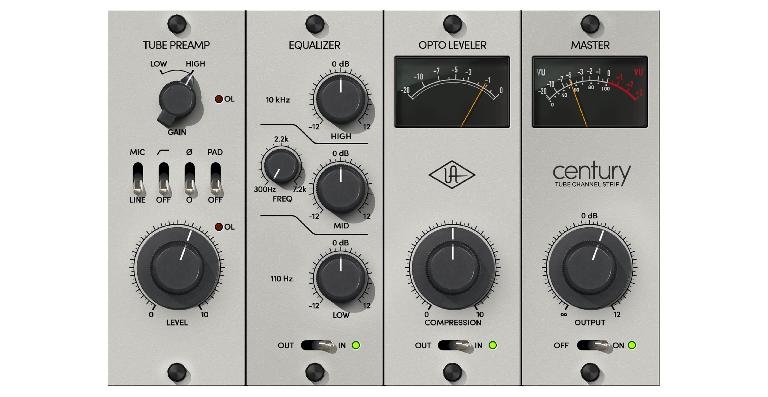 Century Tube Channel Strip Plug-In — Key Features:
Everything you need to capture great vocal & instrument sounds in a single plug-in
Vintage-inspired channel strip made for UA Audio Interface tracking, always easy to dial and musically flattering
Console-inspired tube preamp with bold and musical hardware sound
Three-band EQ with simple high and low shelf tone control and sweepable midrange
Performance-inspiring single knob optical dynamics control with firm yet transparent response
Physical input impedance and front panel control of gain staging and other preamp parameters with Unison Mic Preamp Technology on UA Audio Interfaces
Requires a UAD DSP Accelerator or UA Audio Interface available from authorized dealers worldwide