It seems like there are two camps of people. People that use loops, and people that don't. The people that use loops like them because they can quickly flesh out a song with percussion, guitar riffs,
It seems like there are two camps of people. People that use loops, and people that don't.
The people that use loops like them because they can quickly flesh out a song with percussion, guitar riffs, drums, and more, even if they don't actually play those instruments. Loops help create the semblance of a band when it's really just one person.
The people that do not use audio loops tend to be 'do-it-yourselfers' that in, some cases, already play an instrument, or two. Perhaps they don't feel the need, or in other cases, they just think, "I'm above that kind of thing!"
I used to be in the snobbiest depths of the latter. I felt that every song should be a complete exploration in to sound with every drum beat, every sound, every rhythm all brand new to just that song, period!
As I began getting more business, however, I had to jettison this kind of elitism and realize how loops were extremely helpful, and would also help me get my tracks out on time, on budget, so I could make my money (unfortunately a very important portion of the freelance artists way of life. Mmmmn, food!).

At first, I began employing loops with a heavy heart, and some level of discretion. I was also very quick to hide this new addition to bandmates of mine who'd heard me rebel many times against using recorded loops. To this day, they either still don't know, or they're just humoring me.
One thing I realized quickly once I started employing loops, is that there were staple rhythms I used within my songs regularly. Certain hi-hat patterns, certain drum beats, bassline patterns, and more. In fact, I also realized that there were also certain patterns, guitar riffs and more that I really wish I had available for different songs. Huh, there's something to this crazy loop thing after all.
This led me to making loops of my own stuff that I could use later on for my own songs. These were private, and I didn't have to feel like I'd compromised my artistic integrity.
Setting Up
In this tutorial, I'd like to show you how to easily capture your own loops so that you can use them later in your own productions whenever you need them!
But, before I begin, let me warn you of a very simple rule. Keep the loops simple! If it's a drum beat you'd like to use a lot that includes:
Consider making the kick and snare one loop, and the hihats another loop altogether. The reason being, audio programs like Logic Pro, Ableton Live, Recycle, etc. can get a little confused when multiple parts are playing on top of each other. And, this can result in a diminished quality of the overall loop. Keep the loops simple!
Alright, with that small warning out of the way, I'm going to show you how I go about capturing a loop from an existing song. I hope by you checking this out, you'll try employing it on your own so that you can build a very cool, personal library of loops.
We'll use this track that I'm currently working on as our guinea pig. For a point of reference, here's what it currently looks like (and sounds like).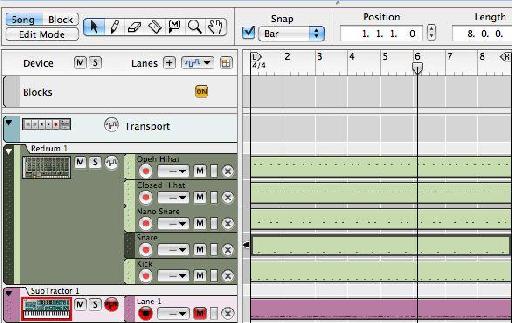 Step 1: Solo What you Want!
With all audio export functions, you need to solo the parts you want to use for your loop, or you get a loop of the whole song. I'm going to go ahead and mute the drum parts that I do not want, along with the instruments.
You'll notice that I'm keeping one snare active. It adds to the overall rhythm and it's tiny. You'll also notice that I'm not muting from the sequencer. I'm doing it from the mixer. Yes, I already set up a sub-mix that has the parts I like. Also, the Kick is side-chained to the compressor of my hi-hat sub-mix and I want to keep that pumping effect going.


Step 2: Loop Points for Looping
We have to tell the DAW what audio parts are going to be exported. Will it be the whole song, or part of the song? We'll use the loop points to fill the computer in. This is universal for all DAWs, but here's the quick way you do it in Reason.
Hold down the Option key and click where you want the loop to start where the measures are indicated at the top. This positions the left locator. Hold down the Command key and click where you want the loop to end in the timeline at the top. This moves the right locator.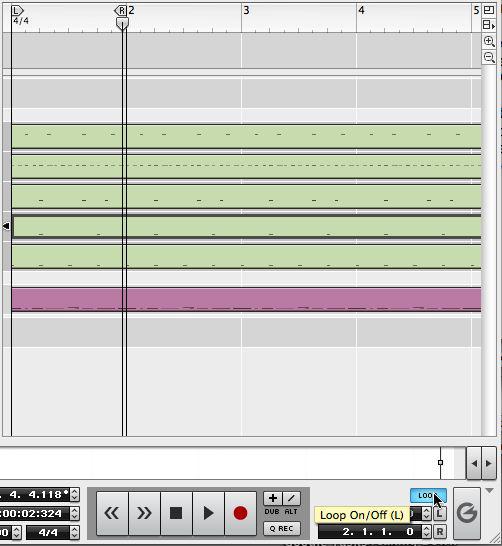 You can turn the loop function on in your sequencer just to verify that it's looping properly. However, in Reason, and in most sequencers, the snap function is set automatically that usually ensures that your loop locators land exactly on the bar. And it is extremely important that the bar snap function is on. If the loop exports slightly off, then your loop won't play right, (or loop right - Ed) and it's not fun to fix. Trust me.

Step 3: Exporting the Loop
The moment of truth: let's export our loop! Go up to the File Menu in your DAW. If you're in Logic, go to File > Bounce... Pro Tools has Bounce as well, under the File menu. In Reason, simply go to File > Export Loop as Audio File.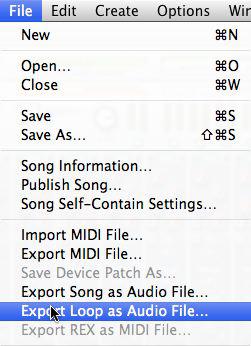 Once selected, a file browsing menu will appear. You can either choose AIFF or WAV as your format, it doesn't matter too much these days because the Mac reads both formats just fine. The PC should also read AIFF just fine as well.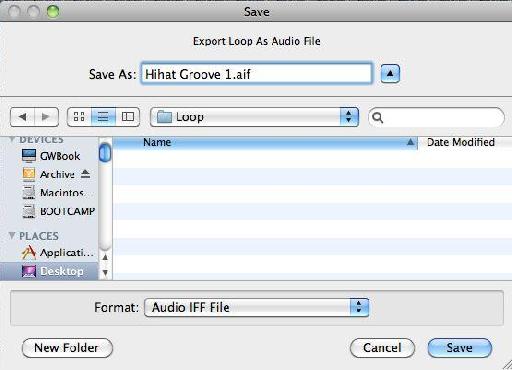 Once you create a name in the Save As... section, you can hit the Save button. A small box will appear asking what Sample rate, Bit Depth you want, and whether you want to apply dithering. Choose these settings accordingly. I'm going with good ol' CD quality. Press Export!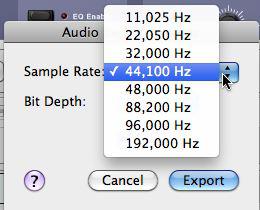 Your render will happen immediately because one bar is nothing when it comes to rendering. And... Your loop is complete!
Audio Hihat Groove:
Now you can bring it back in to a sampler, bring it in to Recycle, bring it in to Logic, etc.
One thing I would recommend, if this is for your personal library, for use later, or even for a friend. Put the tempo in the name, so you know what the original tempo the loop was recorded at. It'll potentially save you a lot of extra steps down the line.