We recently took a look at how Duet Display performed for iPad users, by turning the iOS device into a second screen for your Mac. How does Air Display 3 weigh up? Iain Anderson finds out.
Once upon a time, Air Display let you use your iPad as a wireless display for your Mac. (And it still does!) But lag was somewhat of an issue, and Duet Display was released as a tethered, reduced-lag alternative. It was pretty successful, with a few limitations, and we reviewed it here: Review: Duet Display
Now, Air Display 3 has arrived, with a new tethered mode that also promises lag-free operation, and a few other bells and whistles. Is it worth your time if you're an existing user, or if you've been tempted by Duet Display? Let's take a look.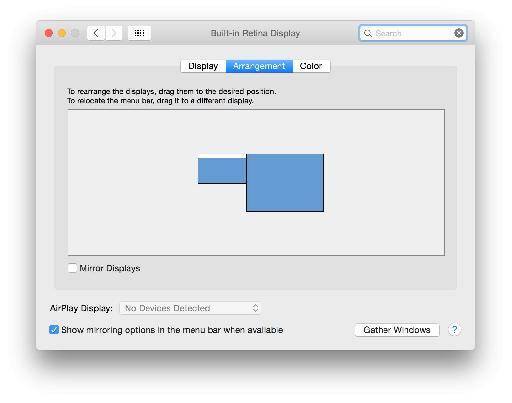 Why yes, that second screen is an iPad, but no, it's not really bigger than the MacBook Pro.
Two Similar Solutions
While Air Display is certainly the older app in the marketplace, Duet Display and Air Display 3 have many things in common. They're both built by ex-Apple engineers, they both use an iPad to provide an extended screen, and they both use a free Mac app to connect to the iPad's paid app. They also both offer three resolution choices, including low-res non-Retina, a scaled Retina option (AKA HiDPI), and a high-res, unscaled-with-tiny-pixels option.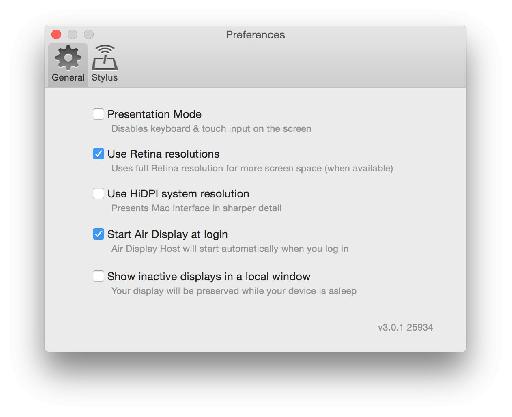 The resolution options for Air Display 3 are shown in this preference dialog, rather than a pop-up menu.
Unfortunately, both apps stutter a little when playing full-resolution video in either high-resolution mode; there just doesn't seem to be enough power to drive full-screen updates at 2048x1536. Dropping back to non-Retina resolution gives smooth results'"if you're happy with less than full HD.
A Few Extra Options
Air Display 3 does give some extra options'"you don't have to use a cable, for starters. Wi-Fi works, though it does indeed have a little more lag, or a lot more lag if you're using Retina mode. It also has more options with regard to host screens; your Mac can take over the screen on a Windows PC or even another Mac, though you'd be purchasing a different product to make that happen. Important note: be sure to purchase the Air Display product on the device that has the screen you wish to take over, then download the free host app for your Mac.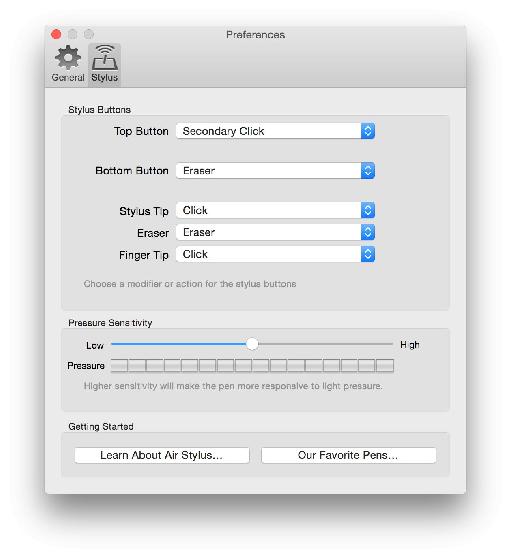 Stylus preferences aplenty, though I don't have one handy to test.
Probably the most important improvement is that if you have a pressure-sensitive pen for your iPad, you can now use it as a pressure-sensitive pen on your Mac (including the features of the now-retired Air Stylus app). That's a neat trick, and one that could save a Cintiq-less artist quite a bit of money. You can also call up an on-screen keyboard if you wish, or block input on the iPad entirely'"but you can't hide the buttons and still interact with the screen.

These overlay buttons can be moved, but only go away in Presentation mode, which disables interaction.
Lastly (and unlike Duet Display) you can use a two-finger pinch to zoom the screen. This can certainly be useful, though like the system's accessibility zoom, the image won't get clearer, only bigger.
Issues
Sadly, the issues with FCP X seen with Duet Display are repeated here with Air Display 3, which may mean there's some kind of system issue at play. To recap, if you put the Events on the remote iPad display, you see a white thumbnail when you scrub. If you put the Viewer on the remote iPad, you see a white box when you bring up Video Scopes. They're both problems which hopefully can be dealt with in the future, but are a limitation today.
I also had an issue or two with my Mac's primary screen remaining dark after falling asleep, and not recovering until I disconnected Air Display. There were a few other moments of minor wonkiness to do with zooming, offset cursors and reconnection, but I'd expect them to be fixed soon.
Conclusion
Both Air Display 3 and Duet Display give you an extra screen when you're away from the office. Because they're connecting through USB and not a regular monitor port, neither is perfect for video editing, but they can still be useful. The fewer pixels you're trying to push, the less likely you are to care about the minor shortcomings, and performance is similar between the two apps. Air Display 3 might have a few rough edges, and the UI that buries settings in a dialog rather than exposing them in submenus isn't quite as efficient, but the app compensates by bringing extra features to the table. If you need wi-fi, two-finger zoom, or stylus support, it's certainly worth your consideration.