There are may internet browsers out there to choose from. I remember the days when Microsoft Explorer and Netscape were the de facto browsers. Fortunately, much has changed in the past 3 or 4 years an
There are may internet browsers out there to choose from. I remember the days when Microsoft Explorer and Netscape were the de facto browsers. Fortunately, much has changed in the past 3 or 4 years and the web has become a more non-IE friendly place! Until recently, Safari was my second browser of choice. I have been a hardened Mozilla Firefox user for all my primary browsing needs for at least 5 years now. But, my personal experience with Firefox has become tainted of late... what seem like endless security updates and slower than expected browsing have finally caused me to seek greener pastures and switch to Safari 5.
However, I missed the multitude of Add-Ons available for Firefox to customize my browser's functionality and look to the nth degree. Happily Safari 5 supports it's own add-ons called Extensions. These are developed by 3rd party developers to "enhance your web experience". Some are particularly useful for social networking, security, navigation and the like and in this post I'm going to share my 5 favourite Safari extensions.

Extend your Web Experience with Extensions

First off, let's take a look at where and how to add extensions to Safari. Choose: Safari > Preferences [Extensions]
Here you can enable and disable all extensions, manage existing extensions, install an uninstall extensions and of course Get Extensions.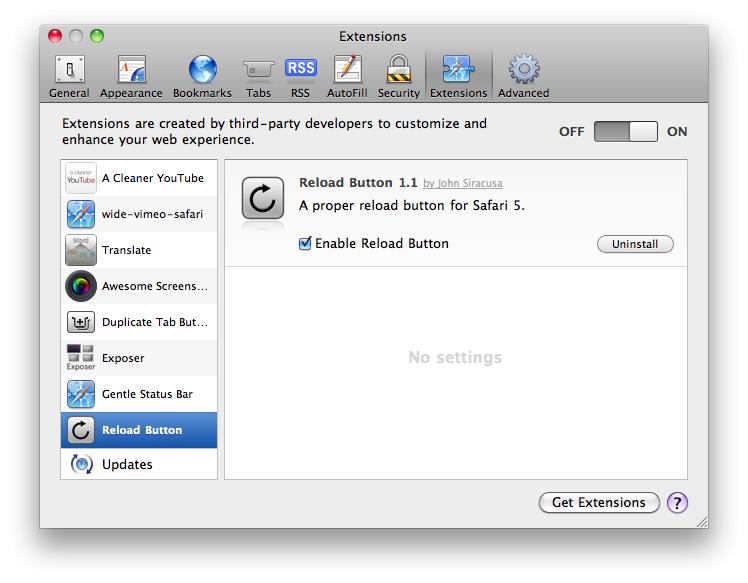 Click on Get Extensions and you'll be taken to Apple's Safari Extension gallery page. Here you can find all the available extensions under their category type.
01 - Reload Button

The lack of a dedicated Reload Button outside of the Address Bar in Safari was always something that irritated me. Sure, Command+R reloads a page, but sometimes I just want to reach for a familiar Reload button with my mouse. Reload Button by John Siracusa does just that. It gives you a "proper" reload button that sits where you want it to in Safari's toolbar. Nice and simple.
To move the Reload Button in your toolbar simply hold down the Command Key and drag the button to your desired location.

02 - Duplicate Tab Button

If I didn't use Tabs I would have about 15 windows open at the same time! Tabs make my life easier, but I often find myself wanting to follow more than one link from a page while keeping the original page (thus saving constant back and forward navigation). So my usual workflow would be: Open tab. Navigate to said page. Copy URL by triple clicking in the Address Bar. Open new tab. Paste URL into Address Bar. etc. etc.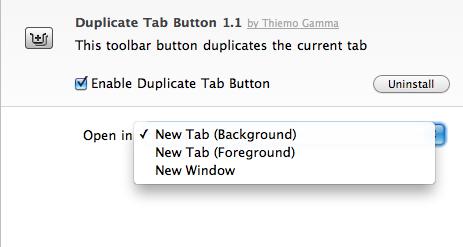 The Duplicate Tab Button extension by Thiemo Gamma has become a staple button I reach for especially when answering posts and checking out different tutorials at macProVideo.com without losing my place. In the Preferences' Extensions tab you can set it up so duplicate tab will open a new tab in the background, foreground or a new window. It's not until I began using it that I realized just how essential it is!
03 - Exposer

If you like Apple's Expose, Spaces, Coverflow and Safari's Top Sites view then this may well be for you. Knowing which tab contains which page you want to navigate to is much easier with a visual representation of each page, right? Well, Click on the Exposer button and a mini thumbnail of each tab in the current window will be displayed. Click on one to view it's Tab.
Calle Gustafsson's Exposer is an extension I'm surprised wasn't included in Safari 5 by default.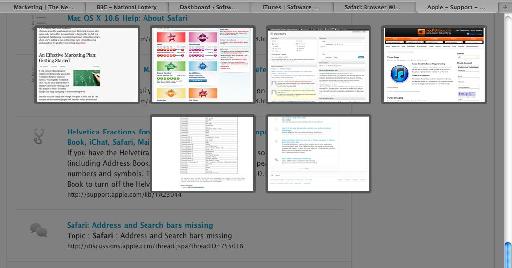 04 - A Cleaner YouTube

I love this one. Although there are other Flash blocker extensions available, this really does what it says! The thing about YouTube that annoys me is the clutter and ads always vying for my attention while I'm trying to watch a video of panda sneezing... or catch the interview with Herbie Hancock.

A Cleaner YouTube by 200okconsulting.com deals with this in the nicest possible way. Gone are the ads and streamers bombarding my screen. Ahhh... white background, simple on the eyes! Bliss.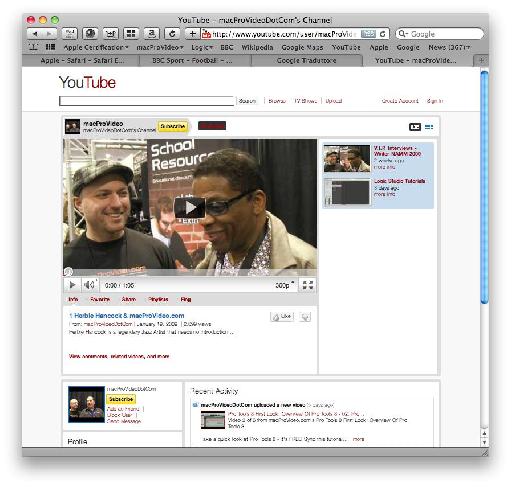 05 - Translate

It's difficult to pick only 5 extensions... But here's a useful one that will Google translate the current page and open the Translation in a new tab.
The Translate (by SideTree.com) Toolbar logo can be changed to one of 4 variations and the default Translate To language can be changed in the Extension Preferences too. Although you can set the language after clicking the Translate button too.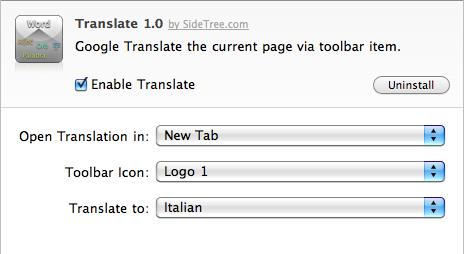 Deciding on 5 extensions was incredibly difficult. There are plenty available for News, social networking, email, Amazon and eBay, etc. Check 'em out and hit me with a comment below to share your favorite Safari Extensions.