You have a website. Check. It works great on iOS devices. Check. If someone bookmarks it to the Home screen your custom icon appears. Not sure how to do that? This tutorial is for you.
In this quick tip I'm going to show you a really easy '˜one size fits all' way to add a bookmark icon for Apple mobile devices. It's mega easy to do with just one image and one line of HTML. All the smart stuff is done by your Apple device, whether it's an iPhone 3G/3GS, iPhone 4, iPod touch or iPad.
Step 1 - Make a Website!
All you'll need to make a website is some glue, a plastic bottle and some safety pins. OK, just kidding! Hopefully you already have yourself a website with access to your server through your hosting company.
I've made a quick mockup of a fictional site called Perfect Pets: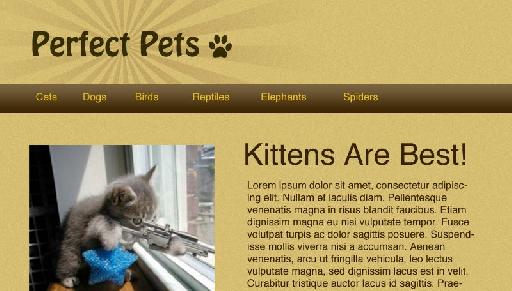 Pretty rad!!!! Look, it's got a kitten on it! Holding a gun!! Awesome!!
I want to create a nice bookmark icon that people can add to their Home screen on Apple devices like iPhones and iPads for quick access to my awesome site.
Size and Resolution
The screen resolution (in pixels) for Apple iOS devices varies. Here's a rundown:
iPhone 4 640 Ã- 960 @ 326 ppi (pixels per inch)
iPhone 3G 480 Ã- 320 @ 163 ppi
iPad 1024 Ã- 768 @ 132 ppi

The recommended icon size for a web clip icon varies with the different types, too:
iPhone 4 114 Ã- 114px (high resolution)

iPhone 3G 57 Ã- 57px

iPad 72 Ã- 72px

Although these are the guidelines, all these devices will automatically rescale your image to the right dimensions. So you really only need to make one, the largest, sized at 114 Ã- 114px.
Step 2 - Make an Icon!
I'm going to design my icon at four times the size of the resolution I need so I can apply some detail. I'll scale the image down later.
My document is 456 x 456px at 72dpi. I've also placed some guides 80px from the edge of the document to center the artwork. The grey area is representative of how the Apple device will apply rounded corners (20px for a 114 x 114 icon) to the image (yes, it does this for you!!) And the nice glass reflection effect, too!!
This is just there as a guide and won't be in the final image.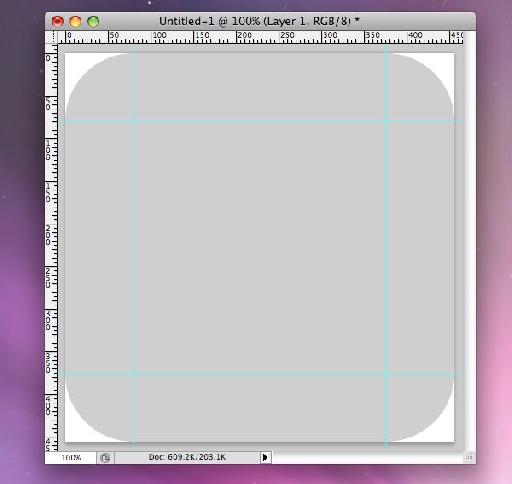 Since we're working at four times the size this works out at an 80px rounded corner (the width of my guides).
So here is my quick icon design! The shape is centered inside the guides and it has a little bit of texture to it.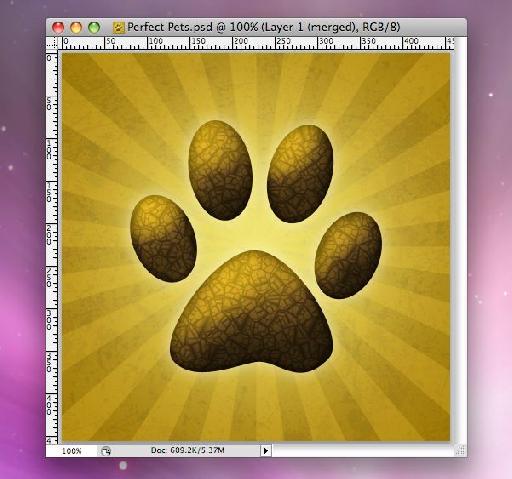 OK, so it's not going to win any awards but what the hey! You could use your company logo or whatever you like. As long as it's better than this you're good to go!!
Flatten the artwork and go to Image > Image Size and scale the icon down to 114 x 114px (or by 25%).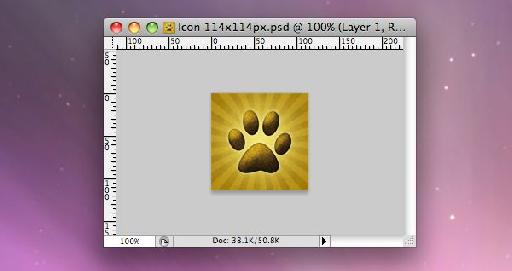 We're done!!
Go to Save For Web And Devices and save the image as a 24-bit PNG file. You can call it what you like.
Step 3 - Put It on the Internet
Upload your PNG image into the root folder of your website. This will be the same place as your index.html file. If you're using Wordpress this will be in your '˜Theme' folder, something like wp-content/themes/your-theme.
All you have to do is add this line of code to the section of your HTML files. Inside Wordpress this would go in your '˜Theme' header.php file.
The rel="apple-touch-icon" in the link is telling the Apple device that there is an image available to be used as a Web clip icon.
Here's my code inside Coda.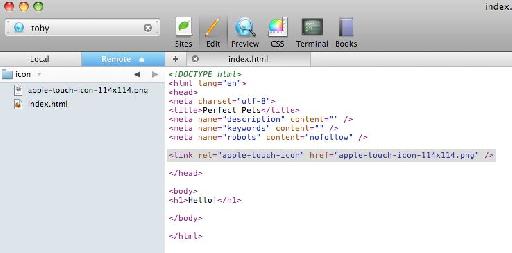 That's it!
Bookmark that Sucker!!
Now when somebody uses the '˜Add To Home Screen' function on your site inside iOS Safari they will see this screen with your icon! You may find you have to wait a second as Safari loads the image.
Once they add it it will appear on their Home screen as an icon. Here it is on iPhone 3GS: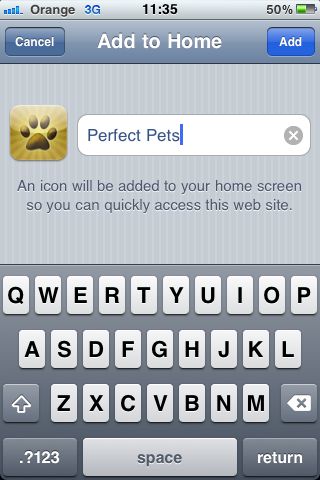 And on iPhone 4. Because of the Retina display this should capture some real detail: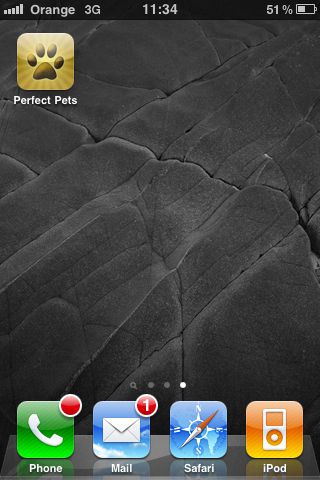 All you have to do now is sit back and wait for the money to roll in! Sweet!

Seriously though, this can add a nice little professional touch to a website and the fact that the Apple device adds all the effects for you makes it really easy.